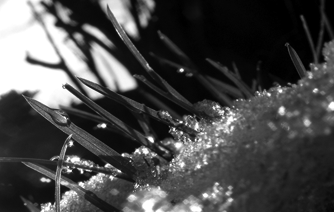 image by seeks2dream, edited by Gsorsnoi 
Zie dit kleine sprietje gras,
Bevroren in de laatste sneeuw
Angstig voor wat komen gaat
Wacht zij mankig op de spreeuw
Warmte gloeit van punt tot zaad
Mat en moe ontwaakt
Door de angst en vrees ontdaan
Ziet zij hoe de lente blaakt
Zeker is het met het wit gedaan
De spriet weet hoe het kon
Hoe zich groen tot licht ontvouwt
In de lentezon
This entry was posted on Saturday, April 10th, 2010 at 14:44 and is filed under Nederlands, Rijmende kunsten, Verbaal Genot. You can follow any responses to this entry through the RSS 2.0 feed. You can leave a response, or trackback from your own site.