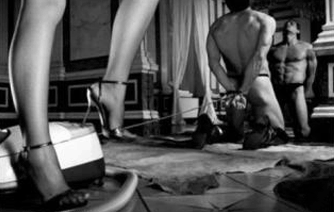 Zo, nu weten jullie ook weer hoe mijn weekendbesteding eruit ziet.
"Zuigen maar!"
Oftewel: een zeugma. Bovenstaand is namelijk een stijlfiguur, een stijlfout waarbij in dit geval een werkwoord twee woordgroepen verbindt, terwijl dat werkwoord in relatie tot de beide zinsneden verschillende functies vervult.
Het meervoud van dit stijlfiguur maakt deel uit van mijn favoriete woorden: zeugmata… of moet ik in dit geval zeggen: zuigmata?
Meer over zeugmata: http://nl.wikipedia.org/wiki/Zeugma_(stijlfiguur)
This entry was posted on Sunday, March 2nd, 2014 at 15:34 and is filed under Duimzuigerij, Gevleugelde Uitspraken, Nederlands, Verbaal Genot. You can follow any responses to this entry through the RSS 2.0 feed. You can leave a response, or trackback from your own site.