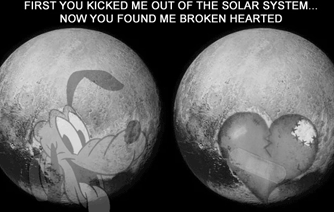 Nu de New Horizons ons eindelijk het ware gezicht van de (dwerg)planeet Pluto heeft laten zien, is er wel wat duidelijker geworden:
Pluto is eens te meer een verstoten kindje. Wetenschappers maken dit nu duidelijk door de lichte vlek op Pluto te omschrijven als een 'gebroken hart'.
Walt Disney had een bijzondere gave (velen zijn daar al langer van overtuigd): niet alleen liet hij zich door deze bijzondere (dwerg)planeet inspireren voor de naam van zijn nieuwe hond. Nee. Hij zag er zelfs meteen een gezicht bij en zet Hubble daarmee in z'n schaduw.
This entry was posted on Wednesday, July 15th, 2015 at 22:16 and is filed under Duimzuigerij, Nederlands, Scherpe Blik. You can follow any responses to this entry through the RSS 2.0 feed. You can leave a response, or trackback from your own site.